Oxfams Guide to Sustainable Shopping
WHAT IS SUSTAINABLE SHOPPING?
Sustainable shopping means shopping in a way that has a less negative impact on the environment, encouraging you to be mindful about the way you shop and buy items made of good materials that can last long.
Not sure exactly where to start? Don't worry, we got you covered with some tips and product recommendations!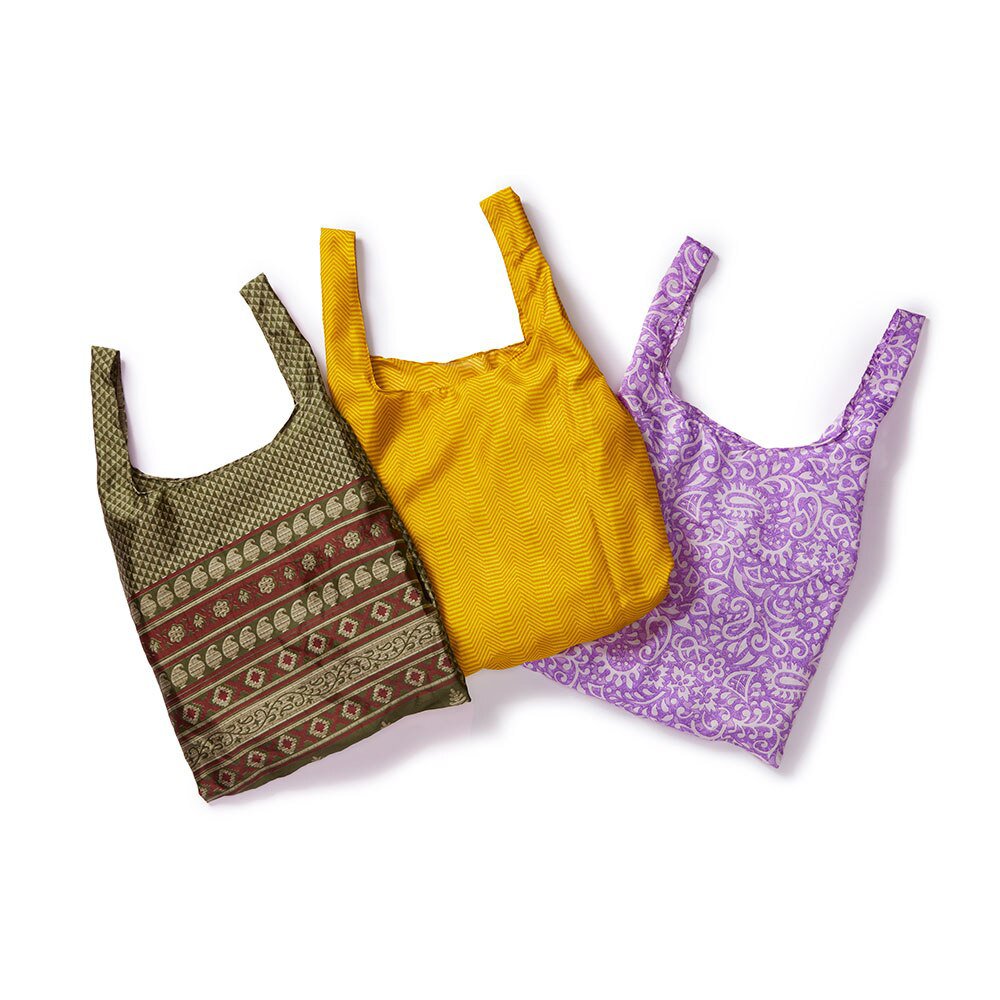 TOP TIPS FOR HOW TO SHOP SUSTAINABLY
Making the effort to shop sustainably and reuse and upcycle existing items is essential to help people and planet. It also is a chance to reflect more on items we buy and find unique, long-lasting pieces!
1. SHOP FOR SUSTAINABLE CLOTHING
Throwaway fashion is made by garment workers often from the world's poorest communities and paid below the living wage. Just to keep prices low.
Each week 11 million garments end up in landfill in the UK.
The textile industry produces more greenhouse gas emissions than the shipping and aviation industries combined.
Buy Second Hand Clothes
Be a Secondhand Samaritan. Instead of fighting your way through the sales this year, why not visit your local charity shop? Better-than-sale prices all year round! Not only will you be saving yourself some money and giving someone's unwanted item a new life – you'll be helping a good cause. It's a win-win-win!
Find Investment Pieces that Last Longer
You can still be sustainable when buying new items. By doing some research on the items you buy and the brands that produce them. Asking questions like what materials is this item made of? What is the impact of its production? And, can it be recycled, reused, or donated?
Instead of buying multiple cheaper variations of the same item (which we're all guilty of doing), try to invest in pieces that have higher quality and that last longer. Even if it's just for your wardrobe's basics.
A good way to put this into perspective is to think of how many times you'll wear an item before buying.
The 30Wear challenge suggests that if you can't see yourself wearing the item 30 times, then it should not be in your wardrobe.
Good news is higher quality items don't have to be expensive! There are endless treasures you can find shopping second-hand including designer pieces.
You can also keep a lookout for seasonal sales and get the perfect piece you've been wanting.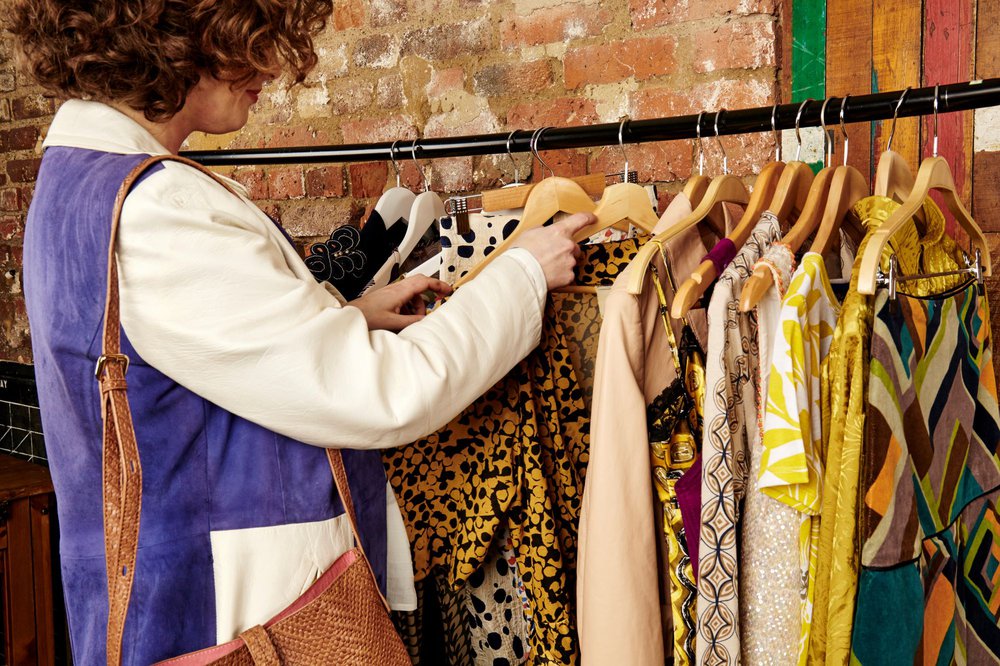 2. SHOP FOR SUSTAINABLE HOMEWARE AND DECOR
Buy second hand homeware
Buying items second-hand is a great way to practice sustainable shopping, as these items have less of a negative impact on the environment, and by buying them, you're reducing your carbon footprint and saving them from going to landfill.
Learn to Upcycle
Fix up look sharp… Kintsugi is the Japanese art of repairing broken pottery with gold. Turning a damaged and unusable item into something beautiful and unique. While we're not suggesting you get your soldering iron and protective goggles out just yet, maybe you can apply this mentality to some of the items lying around the house that have seen better days.
Can you patch those jeans instead of buying a new pair? Would a bit of super glue do wonders on that wobbly photo frame? Avoid creating unnecessary waste and see if you can fix it before throwing it!
3. SHOP FOR SUSTAINABLE BOOKS AND TOYS
Buy second hand books and toys
Secondhand books and toys are great environmentally-conscious gifts that don't cost the earth.
Buying secondhand helps to reduce waste. And gives a new life to our much-loved cuddly friends or games. Or our favourite stories, worlds and characters.
By filtering for books or toys in good condition, you can find ones that are good as new and perfect for gifting.
If you're running out of space for excess books or outgrown toys, don't throw them away! Your unwanted books and toys can be resold to help raise funds. Funds that support families to grow the future all over the world.
You can help to reduce waste. And leave a less cluttered world for younger generations. You can use our shop finder to find your closest Oxfam shop.
Rachel Manns, Oxfam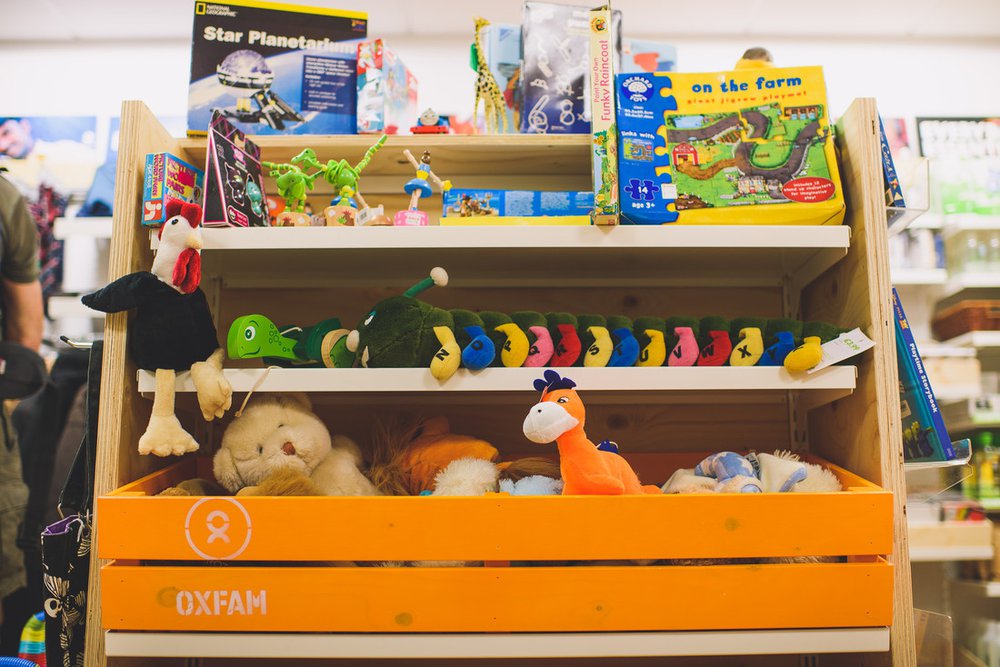 4. SHOP FOR SUSTAINABLE HOME PRODUCTS
There are many things that we use on our day-to-day that can cause unnecessary waste.
By incorporating some small changes, we can help the environment and save some money while we're at it!
Here are some ideas on how you can do that…
Bag Yourself a Reusable Bag
The biggest retailers sold 549 million plastic bags in the year 2018-2019, down from 1 billion bags the year before. A huge improvement – but still 549 million bags to go. Be instrumental in that figure dropping even further and purchase one of our reusable totes here to haul your baggage in style.
Get a reusable travel cup
Long Shot Grande Salted Caramel Skinny Latte With 2 Pumps of Vanilla to Go, Please.
Estimated Figures state that 2,700,000 coffee cups are thrown away every day. The mix of plastic in their composition means that they can't be recycled so they end up in landfills, where they will take hundreds of years to break down.
Take one of our reusable bamboo coffee cups into your favourite coffee shop and asking them to fill that instead (something that they are happy to do). That's one less coffee cup in the bin. Do it every time you buy and you're really helping to make a difference. And take a look at the different designs – you're going to look very cute whilst doing it. Need your caffeine fix in transit? Check out our travel cup for no-spill thrills on the go.
Wash your clothes the eco-friendly way
It's not just microfibres that make their way into water systems via our washing machines. A number of potentially harmful chemicals found in everyday household laundry detergents do too. Bio-D's environmentally responsible laundry range is made from plant-based and naturally derived ingredients. It stops this from happening. Bio-D laundry bleach also acts as an eco-friendly whitener and stain remover to keep things looking fresh and new, whilst also being antibacterial and an odour remover.
Get a sustainable lunch box
Instead of buying expensive meal deals clad in extra packaging, 2020 can be the year that you vow to start bringing a packed lunch from home instead.
This is the tip that keeps giving: you will save panic buying that £5 soggy sandwich. You'll have more time to relax and recalibrate during your lunch break rather than battling the busy midday queues. You can have a better handle on healthy eating and fuelling your body. And, of course, it's planet-friendly. You can make sure the waste you are responsible for is decreased significantly by using a lunch box every day. Rather than throwing away that pasta salad's pesky plastic pot. And if that wasn't enough – pick up a lunch box from our sustainable range and you'll be helping to beat poverty, too.
Ditch the cling film
That's a wrap, it's time to ditch the cling film.
Plastic wrap is pretty annoying – it sticks together and tears in all the wrong places. And when you realise that it is pure plastic waste and totally unnecessary to boot, I'm sure you'll agree that it's time to say, "See ya later." Instead, you can try an environmentally friendly alternative – beeswax wrap. It can be used to wrap or cover food, rinsed under the tap and reused, lasting on average for around a year. Once you're finished with it, it can be stripped up and used for compost as it is biodegradable. Leave the cling film in 2021 and wrap your way into a brighter, more sustainable year.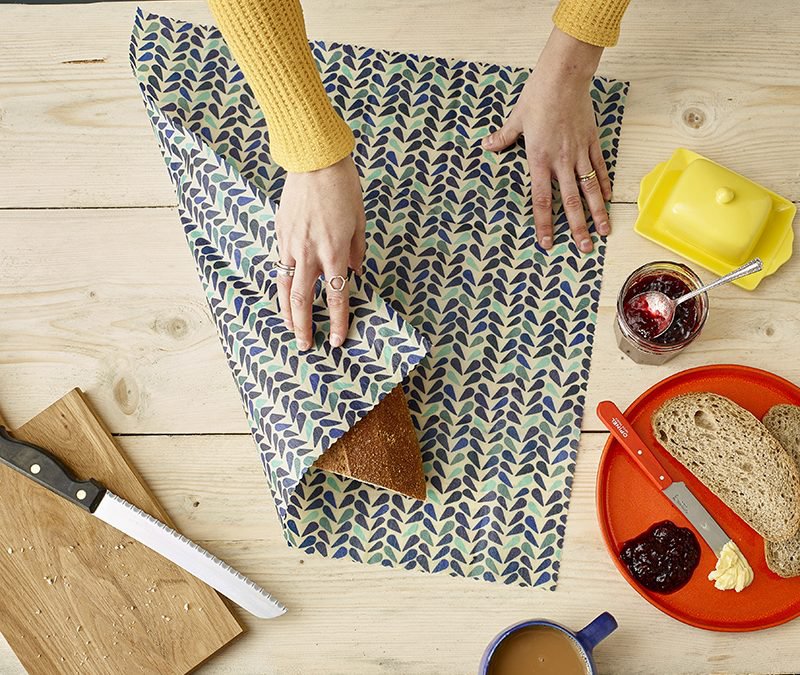 DON'T NEED IT? DONATE!
Planning a spring clean and want to declutter a few of those cupboards? Let your unused things be someone else's treasure and donate to your local Oxfam store rather than throwing them away.
HOW DOES OXFAM CONTRIBUTE TO SUSTAINABLE SHOPPING?
Oxfam promotes the circular economy and sustainable fashion by extending the life of used clothing. Through reuse, re-sale or recycling. This helps to close the loop on clothing waste. And raise funds to end poverty.
We invite consumers to donate unwanted clothing through our UK charity shops. Found on over 600 high streets across the UK. And promote 'pre-loved' clothing as desirable and sustainable, through activities including fashion shows, photo shoots and celebrity donations.
Partnering with major companies, including M&S and Sainsbury's, allows us to develop innovative circular solutions, offer a zero-waste option for excess stock, and enable more people to donate clothing through take-back schemes, textile banks and workplace donation points.